What use to be a reunion celebrating African American Sororities and Fraternities, has now turned into a large population of people that do not even attend colleges attending the festivities. It has become such a mess, that Police often are asked to shut the event down. I am referring to what is known as the "Greek Picnic" held annually in Philly.
Back in the day Greeks can recall coming together and being able to enjoy food and drinks, while they got to mix and mingle with the different Frats and Sororities. If you attended the festivities you would be surrounded by Pink, Green, Red, Purple and Blue all around you. You could hear the sounds of the Omega's barking and the Kappa's swirling their canes. You could not help but notice the Delta's and AKA's strolling to the sounds of the DJ and the Zeta's posing for a picture holding up their sign.
Now the picnic has become a place for the local teens and young adults to come out and walk around trying to look cute and catch a boy or girl. The Greeks barely can recognize or locate where their Frat is and older Greeks have become turned off completely.
Well, ten years ago a group of "Old School Greeks" got together and created the "Old School Greek Picnic", also held in Philly. This event was to be held separate from the original Greek Picnic, which still goes on today.
They wanted to create a picnic that was reminiscent of how the Greek Picnic used to be. Keeping up with the Huxtables was delighted and honored to attend this event on Saturday August 9th, and truly felt like they were at a real "Greek Picnic".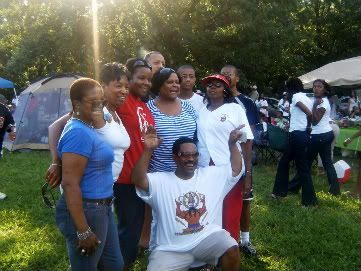 When we arrived at the event we were immediately greeted by the Omega's who were quick to offer us a plate of food and some "purple stuff in a cup", a few of you know what this is called. We quickly wanted to look around and found that every Greek had their own tent, food and drinks.
There were also vendors out that were selling paraphernalia and the sounds of the DJ could be heard from miles away. The Greeks joined in the middle of the park singing and dancing to old and new school tunes. We were quickly taken back to old school family reunions where the Electric Slide was a must.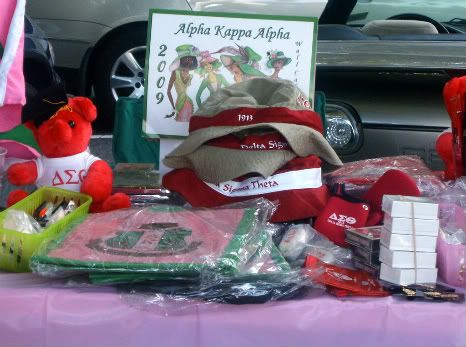 Everyone there seemed to be Greek except for a few friends and family members. The event reminded me of the true reason that Black Sororities and Fraternities were founded, brotherhood and sisterhood!
It was truly a delight to see Brothers and Sisters come together and the police not have to show up! lol

Keeping up with the Huxtables would like to say congratulations to "The Old School Greek Picnic" committee for Taking it Back! The Old School Greeks invite you to come out next year to celebrate with them, as long as you don't turn it into an event that people cannot truly enjoy!