Written by Joaquin M. Turley, Jr. (Make sure to check out discussion questions at the end of article)

Over the past week, Sep 16-19, the second annual Bootleg Festival took place in the Washington D.C. area. It was put on by Words Beats and Life, Inc. and the DC Commission on the Arts & Humanities. This festival is about many things but focuses mainly on the evolution of various aspects of Hip-Hop not as a genre but a way of life. There were workshops, film screenings, concerts and panels all over the D.C. area throughout the duration of the event.

I went to a panel discussing the misogyny of women in hip hop. Misogyny is the hatred or mistreatment of women. So several issues were discussed along the lines of how women are thought of or degraded within hip-hop and how before we as a community can change these images, we must change the mindset of how we treat our women as a whole. Toni Blackman and friend Hanifah Walidah were the most outspoken on the panel of five which was comprised of all females. Below is a picture of the two together.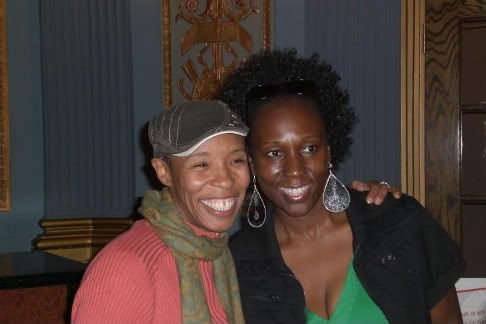 There was also a film festival which showcased various issues surrounding African-Americans and musical forms. The 2009 Jury Award Winner entitled "Say My Name" actually took place before the panel discussion. I highly suggest women sink their teeth into this most tasty documentary because it takes a hard hitting look into the world of Hip-hop from a woman's perspective and points out the double standards surrounding their careers and lives. MC Lyte expressed, "It takes more than just lyrics. Women MC's names are bigger than their record sales. As Rah Digga expressed her intolerance of how hip-hop is changing as a whole. She stated, "I write all my rhymes" and went on to say she lost respect for the "game" when she found out about all of the ghost writers writing for popular rappers.
It also shed light on the different ways women receive attention both negative and positive within the industry and mirrors how women must go above and beyond to receive the same 'props' as men do. Perhaps the most intriguing issue was the fact that many of the unknown artists who were featured felt as though more established acts were not representing female M.C.'s the correct way. In the panel discussion, this was also touched on as many women stated how there are so many issues women face that popular female rappers don't talk about.After the panel and films, The Circus Concert took place and showcased the young talent in the D.C. area. Acts performing were Bomani "D'Mite Armah, Educated Consumers, Lyriciss, J Ferb, M1 Platoon, Rosetta Stoned and The Five One.
For more information on the festival please visit….
www.bootlegfestdc.com
How do you feel about ghost writers writing for popular rappers?
How do you feel about the mistreatment of women in Hip Hop?